So Suzy is having a giveaway!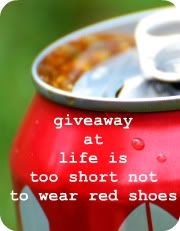 It's pretty cool and you should go enter.
It's a bucket list themed giveaway so.... I need to make a bucket list. Actually I've been meaning to do this anyways, though I doubt I'll have too much on it. :P
1. Go to a midnight showing. DONE well... almost done! :D I'm going to go see the last Harry Potter :D
2. See Muse in concert
3. See Radiohead in concert
4. Go to Mexico.
5. Plan my little sisters weddings when they get married. :D I really do think that's what I was totally meant to do... Be a wedding planner. So I want to do my sisters!
6. Take dancing lessons
And yeah, that's all I can think of. :P I'm sure I'll think of more after I post this though...